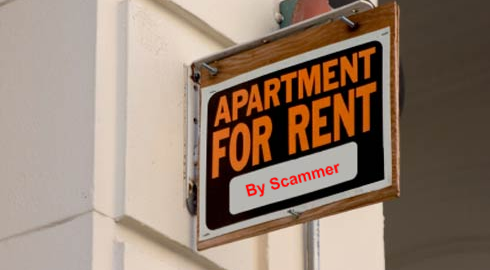 I talked to a client of mine today, and he shared with me a sad, but all too familiar story. One of the Marines in his unit had just gotten back from Afghanistan, and was looking for a rental for him and his wife. He found what looked like a killer deal on a reputable website, a gorgeous home for just $800 per month. He contacted the owner of the property, who claimed that he was a Marine that had gotten orders to Europe, and if he would Western Union the owner $1600 for a deposit and first months rent, the owner would mail him the keys. My client's Marine sent the money, but the keys never came.
I know of at least two other occasions where clients of mine saw a rental ad that seemed too good to be true. One was here in Jacksonville, where my client saw a beautiful two story home in the Commons for rent for $850 per month. Luckily, she emailed me about it. When I looked up the address in question, I saw that it had been rented out over a month ago for $1400 per month. The other incident was with one of my clients that was moving to Colorado. They found a cute two bedroom home with a fenced in yard for $600 per month online, while still living here in Jacksonville. When they contacted the owner, he informed them that he was a pastor doing mission work in South America, and that if they would send him the first months rent and deposit, he would mail them the keys. As clients and friends of mine, I told them not to do it, and thankfully they listened.
These scams are most commonly found on Craigslist, but can be found on a myriad of other sites as well. They use free email hosts, like yahoo, gmail, hotmail, etc. They use photos stolen from ligitimate ads that they find on other websites, and alter the details to make them look like a deal. They try to gain your trust by saying that they're in the military, or that they are overseas doing God's work. Don't let them trick you...
Keep an eye out for these warning signs as you house shop:
It's a killer deal - If the home you're looking at is priced significantly lower than it's similar competition, be wary. Look -up the address on other websites to see if it's listed somewhere else with a different price.-
No one has the key / Sight unseen - If they tell you that they are out of the country, but can mail you the key after you pay, essentially renting it sight unseen, think twice! Ask them if they have a friend/colleague/family member that can access the home to show it to you. If they don't, walk away. There are other homes out there!
They ask you to transfer funds via Western Union / MoneyGram etc. - Even if they tell you to wire the funds to someone you know and then provide them with a receipt, that still gives them enough information to pick up the wire, from anywhere in the world.
They ask for a scan of your passport and/or ID - This is particularly important if you have the military ID that still contains your Social Security Number. They can use your ID to steal your identity and scam others.
If you have more questions about Jacksonville NC rental scams, or if you think you've found one and you want to know that to do, contact me at 910-467-4322.
Search (legitimate) homes for rent in Jacksonville NC
Search (legitimate) home for sale in Jacksonville NC
Alexis Pierson ~ The Starter Home Specialist ~ Serving the Jacksonville NC area - Licensed in the state of North Carolina, affiliated with EXIT Independence Realty. Your Starter Home Specialist for Jacksonville NC,Richlands NC, Hubert NC, and Onslow County. My knowledge and dedication will help your real estate transaction to go smoothly, so that you can enjoy the experience and look back on it with a smile! To discuss your next home purchase or home sale call me at (910) 467-4322!!