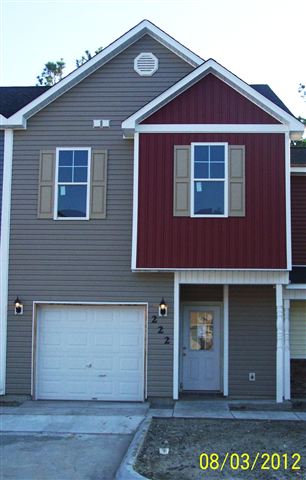 In an increasingly competitive market, some Jacksonville NC builders are pulling out all of the stops to get their homes sold! Carolina Forest Developers is now offering a Townhouse Buyback Program for their new construction townhomes in Carolina Forest @ Village at the Glen, for buyers that go under contract to purchase one of their homes during August of 2012. According to the program, if the buyer decides, three years after purchase, that they want out of the home, the builder (or assigns) will assume the VA loan on the home.
The program only has 5 terms:
1. 3 years from the date of the original closing, the Buyer must be entered into contract with the Seller.
2. The house must be in good condition as approved by a 3rd party.
3. Seller will assume the loan of the Buyer at loan balance.
4. VA Entitlements used on the home will not be availalbe to the Veteran until the home is sold or refinanced.
5. Mortgage must originate from the preferred lender, Alpha Mortgage Corporation.
In a fluctuating real estate market, a deal like this could be just the thing for a buyer that's concerned about the risks of homeownership. The three bedroom townhomes range in price from $125,900 - $134,900, and come with ample incentives, including a $2500 furniture allowance at Furniture Plus, stainless steel appliances, and $2500 in closing cost assistance! For more information about the townhomes in Carolina Forest @ Village at the Glen, contact Alexis Pierson with EXIT Independence Realty, 910-467-4322.
Alexis Pierson ~ The Starter Home Specialist ~ Serving the Jacksonville NC area - Licensed in the state of North Carolina, affiliated with EXIT Independence Realty. Your Starter Home Specialist for Jacksonville NC,Richlands NC, Hubert NC, and Onslow County. My knowledge and dedication will help your real estate transaction to go smoothly, so that you can enjoy the experience and look back on it with a smile! To discuss your next home purchase or home sale call me at (910) 467-4322!