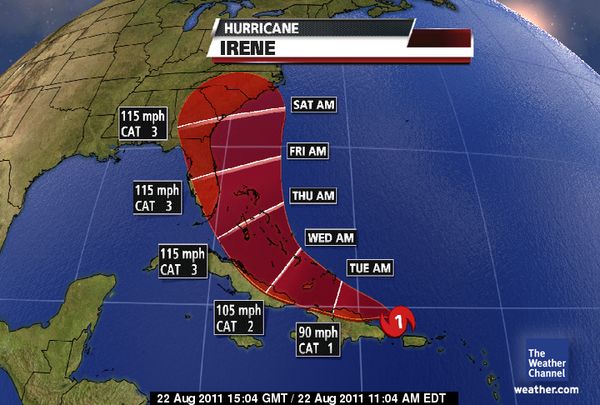 With Hurricane Irene making it's way towards Jacksonville, NC, residents are starting to ask what supplies they should have to be prepared for the impending storm. According to the National Oceanic and Atmospheric Administration, a good Hurricane Preparedness Kit should contain the following:
Water - at least 1 gallon/person for 3 to 7 days.
Food - Non-perishables, a manual can opener, cooking tools and fuel, paper plates, cups etc.
Bedding - Blankets, pillows, etc.
Clothing - Seasonal clothing, rain gear, sturdy shoes
First Aid Kit - Including important medications and prescription drugs
Special Items - For small children or the elderly
Toiletries - Hygiene items, moist wipes
Flashlight and Batteries
Radio - Battery operated
Telephones - Fully charged cell phone with extra battery, traditional non-cordless phone if available
Cash and Credit Cards - In the event that banks and ATMs arent' available for a period of time, have some cash
Keys
Toys, Books, and Games - To stave off boredom
Important Documents - i.e. social security care, medical documents should be kept in a waterproof container or bag
Tools - Keep a set with you during a storm
Fuel - Fill your vehicles gas tank before the storm
Pet Care Items - Vet records, kennels, leashes, ample food and water.
The need for a Hurricane Preparedness Kit is more pressing right now, with Irene's approach, but you should remember that Hurricane Season is from June 1 to November 30, so it could be a good idea to put together your household kit prior to the start of Hurricane Season.
For more information about Hurricane Preparedness, visit the NOAA website. In the event of an emergency, you can reach the Jacksonville NC Police Department at 910-455-4000, the Onslow County Sherriff's Department at 910-455-3113, or, when in doubt, call 911.
Alexis Pierson ~ The Starter Home Specialist ~ Serving the Jacksonville NC area - Licensed in the state of North Carolina, affiliated with EXIT Independence Realty. Your Starter Home Specialist for Jacksonville NC,Richlands NC, Hubert NC, and Onslow County. My knowledge and dedication will help your real estate transaction to go smoothly, so that you can enjoy the experience and look back on it with a smile! To discuss your next home purchase or home sale call me at (910) 467-4322!