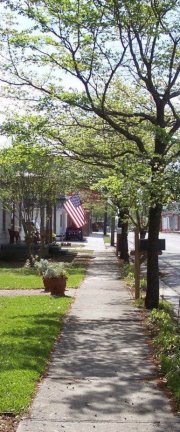 Downtown Richlands NC has been selected by the North Carolina Commerce Department to receive downtown revitalization assistance through the Small Town Main Street Program. The assistance will come in the form of the time and professional advice of architects, downtown planners, and other specialists. These specialists will advise local officials on landscaping, design, marketing, and organization. Richlands will receive two years of concentrated, monthly on-site services from the Small Town Main Street staff. After the initial two years, they may opt to continue participation in the program with more limited services as needed.
The Small Town Main Street Program is a state program within the Department of Commerce's Community Development Division. The program began in 2003, and became statewide in 2007. The program is designed for small towns, with populations not exceeding 7500 people. In most cases, these small towns lack the resources to revitalize their downtown areas on their own. Every year, new communities are selected through a competitive application process.
Richlands NC was incorporated on March 29, 1880. It prides itself in being a family centered community, with a great, small-town feel. Richlands is becoming increasingly popular with Onslow County residents who enjoy the country location, but still want to be a short drive from Marine Corps Base Camp Lejeune. It has recently become the home to many up-and-coming new construction subdivisions of all price ranges including:
Ashbury Park Subdivision New Construction Starter homes under $150,000
Crimson Faire Subdivision New Construction Starter homes from $149,500 - $165,900
Turkey Ridge Subdivision New Construction Starter homes from $147,400 - $169,900
Garden's Gate Subdivision New Construction Median homes from $156,000 - $207,000
Maidstone Park Subdivision New Construction Median homes from $169,900 - $202,000
Cottle Branch Subdivision New Construction Upscale homes from $170,000 - $247,500
To read the full article, visit JDNEWS.com
Learn more about the Small Town Main Street Program
Learn more about Richlands NC
Alexis Pierson ~ The Starter Home Specialist ~ Serving the Jacksonville NC area - Licensed in the state of North Carolina, affiliated with EXIT Independence Realty. Your Starter Home Specialist for Jacksonville NC,Richlands NC, Hubert NC, and Onslow County. My knowledge and dedication will help your real estate transaction to go smoothly, so that you can enjoy the experience and look back on it with a smile! To discuss your next home purchase or home sale call me at (910) 467-4322!