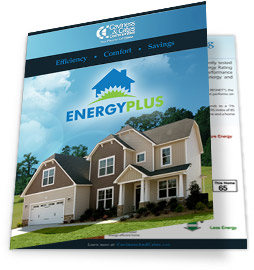 Caviness & Cates Communities, recognized as one the "Top 100" builders in the nation by Builders Magazine, is now building Energy Plus Qualified Homes in the Jacksonville NC area. A designation given by the EPA, Energy Plus standards require that the home be at least 15% more efficient than typical homes built to code and include additional energy-saving features.
Features of a Caviness & Cates Energy Plus home may include:
Efficient duct system
Sealed home "envelope"
Properly sized, efficient HVAC equipment
Effective insulation
Low "E" windows
Independent review
According to the Caviness & Cates Design Features sheet, many of their homes will use energy efficient Trane Heat Pumps, efficient professionally engineered insulation systems including composite R-values of R-30 in ceilings and R-13 in walls, energy efficient 50 gallon electric water heaters, and digital thermostats.
At this time, Caviness & Cates Communities are building homes in Carolina Plantations, Crimson Faire, Peggy's Cove @ Southbridge, The Bluffs on New River, Towne Pointe, Vista Cay Village, and Williamsburg Plantation.
To see a list of all of the Caviness & Cates Energy Plus Certified Homes for sale in Jacksonville, contact me, and I'll have it emailed out to you within 24 hours! To learn more about Caviness & Cates Communities Energy Plus Homes, download their Energy Plus Informational Brochure.
Alexis Pierson ~ The Starter Home Specialist ~ Serving the Jacksonville NC area - Licensed in the state of North Carolina, affiliated with EXIT Independence Realty. Your Starter Home Specialist for Jacksonville NC,Richlands NC, Hubert NC, and Onslow County. My knowledge and dedication will help your real estate transaction to go smoothly, so that you can enjoy the experience and look back on it with a smile! To discuss your next home purchase or home sale call me at (910) 467-4322!